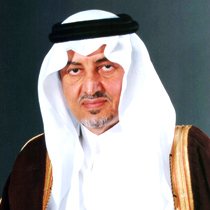 Chairmans's Message
A Word From HRH Prince Khalid Al Faisal Bin Abdulaziz
Despite its relative youth, Alfaisal University has achieved first-rate growth, secured academic accreditation, and so much more. The University is ranked second among Saudi and Arab universities according to the World University Ranking by Times Higher Education. The College of Medicine is first among the medical colleges in the Kingdom.
It is fitting that this news coincides with the celebration of the 10th anniversary of its founding, as one of the fruits of the King Faisal Foundation. It is a celebration of the great achievements of the past ten years: Inspired by the vision and foresight of its wise leadership; Committed to building future generations of youth and citizens of the country and the world; Providing the labour market with quality candidates to meet the needs of the Kingdom in accordance with Vision 2030.
Alfaisal is a non-profit university with five colleges: Medicine, Pharmacy, Business Administration, Engineering and Science. It is a student-centred, research-focused university. It maintains agreements and partnerships with prestigious universities and international research organizations from around the region, and the world.
Alfaisal's students and professors publish outstanding scientific research in many international scientific journals and periodicals and are often cited by other papers. Moreover, they register a number of patents in the name of the University. Students can look forward to promising careers as he University maintains the highest employment rates for its graduates.
Alfaisal University has gladly become an advisory centre and clearing house, undertaking studies and research. This is funded by contributions from many sources, and fulfils the University's mission to serve the community.
Alfaisal is dedicated to helping students to solidify their identity and cultivate their personality by encouraging them to organize and participate in professional conferences, launch events and initiatives that contribute to raising the level of community awareness, and to develop their entrepreneurship and volunteer work among fellow students and the larger community.
Our commitment to excellence in all facets of the University declares that education is the basis for human development and the advancement of nations, and the University will continue, God willing, in this path of excellence unwaveringly. King Faisal once said, when asked what he envisioned for the future: "I hope that the Kingdom of Saudi Arabia, after 50 years, will be a source of knowledge for humanity."